It's said by some that the Chinese will eat anything. They'll certainly serve it up for idiot foreigners and boyishly proud men to devour! A market stall (at the same market where sugar dragons were found) was serving various deep fried insects. Having heard that starfish was not the nicest of dishes, I tried scorpions - one stick of little ones, and one stick with a big black one on.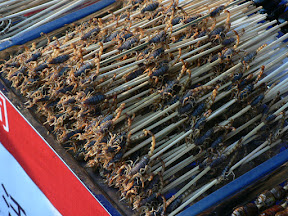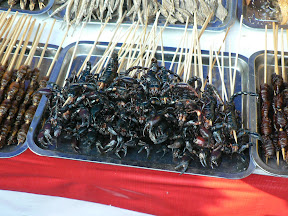 The stings look horrendous! I was quite worried that there would be some venom left in there, or that it would gouge your tongue while chewing on it. There's only one way to find out! The chefs courteously deep fried the shiny-carapaced creatures (which were of course already dead) and after waiting for them to cool, I carefully bit one of the small ones. It tasted slightly bitter, slightly burnt, and was very crunchy. There's nothing to it!

The big black one was slightly chewier, and the meat in the pincers isn't so hot. The best thing about this food is the looks you get from locals while grinning and commenting "Hao chi!"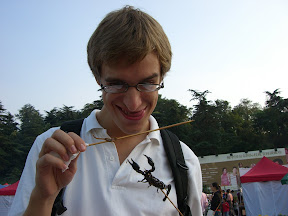 - delicious!